Book Stuff..

Just got home from book group where we discussed
The Time Traveler's Wife
. It was a split down the middle for those who loved the book and those who found it annoying. The best insight on the book came from Sandy, who suggested the rather than time travel Henry was "mind traveling". She pointed out that Gomez's area of specialty was abused children and both Henry and Clare had damaging childhood experiences. These ladies are great discussion group people!
I read the book long before seeing Eternal Sunshine of the Spotless Mind, but I can't help but draw a parallel between the two stories. The movie rights to TTW have been sold, so we'll see.
So I came home to find that
Cathy
has a book quiz up on her site. Book lover that I am, I had to try it out for myself: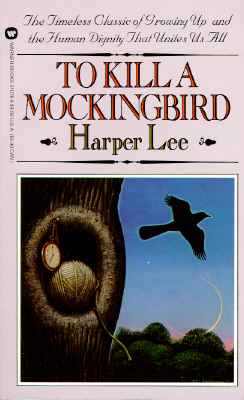 You're To Kill a Mockingbird!

by Harper Lee

Perceived as a revolutionary and groundbreaking person, you have
changed the minds of many people. While questioning the authority around you, you've
also taken a significant amount of flack. But you've had the admirable guts to
persevere. There's a weird guy in the neighborhood using dubious means to protect you,
but you're pretty sure it's worth it in the end. In the end, it remains unclear to you
whether finches and mockingbirds get along in real life.


Take the Book Quiz
at the Blue Pyramid.
Hmm...I'm flattered about the book, it sort of fits my post from earlier today. But I don't know about that "weird guy in the neighborhood" thing.
One more thought: I keep reading about Clapotis from Knitty on the blogs. I've clicked on the link and looked at the scarf...so? Is it just my generation, or does the term Clapotis sounds like a 'social disease' to anyone else?